Description
High Calcium Colostrum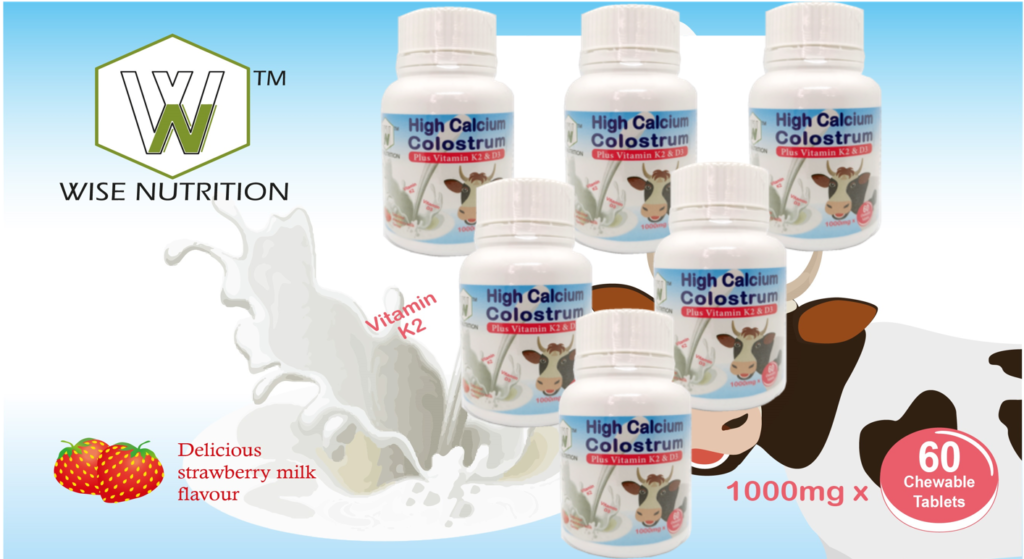 High Calcium Colostrum 
Plus Vitamin K2 and D3
Colostrum is the highly nutritious 'first milk' produced by the mother for the new-born in its first few days of life. Colostrum contains many different nutrients including proteins, vitamins, minerals, enzymes as well as important immune factors and immunoglobulins (also known as antibodies). These antibodies are made by the mother's immune cells and are passed to the new-born in the Colostrum providing critical protection from bacterial and viral infections while the baby's own immune system is in an immature state.
The three main types of immunoglobulin are IgG, IgA and IgM and each plays a specific role in the immune response and defending the body against infection. IgG antibodies are the most predominant and circulate in the bloodstream and other body fluids primed to bind to and inactivate disease-causing antigens as they are encountered.
Taking a Colostrum supplement can help boost your immunoglobulin levels and strengthen your immune system. Colostrum contains immune factors that keep the immune response in balance and also immune proteins called PRPs (proline rich polypeptides) that fine-tune the way the white blood cells respond to antigens such as viruses and bacteria.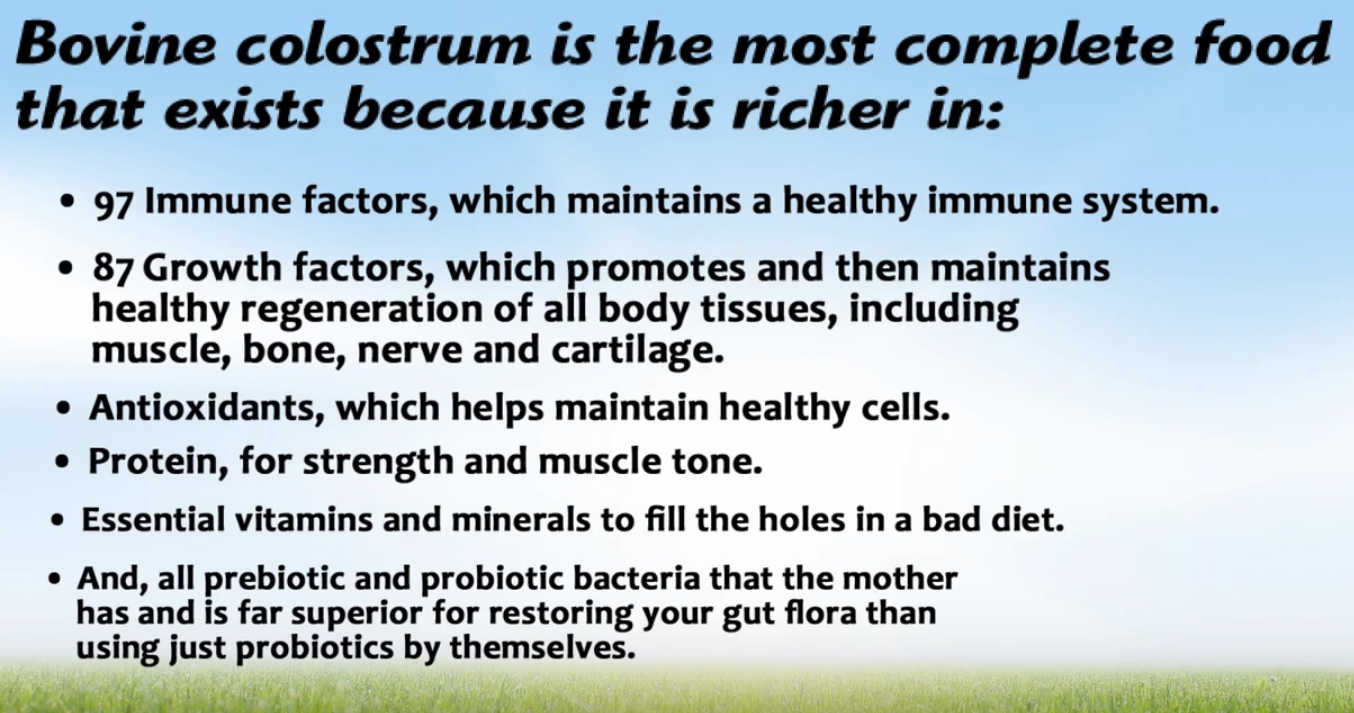 High Calcium Colostrum – 

Why Vitamin K2 and D3?

What is vitamin K?

Vitamin K is a name given to a group of fat-soluble vitamins. There are two main types of vitamin K: K1 and K2. They are considered essential "helper" molecules for the production of a variety of proteins needed for reactions like blood clotting, calcium regulation and heart health.

How is vitamin K1 different than vitamin K2?

Vitamin K was discovered in the early 1930's and documented in a German scientific journal for its role in "koagulation" (coagulation, or blood clotting), giving it its signature vitamin "K" name.

Since then, all of the attention for K has been predominantly on its purpose for blood clotting. Although both forms (K1 and K2) were discovered at the same time, it was thought that they simply had structural differences. Until recently, it wasn't known that K2 had a separate and distinct function in health than K1 (blood clotting).
High Calcium Colostrum – 

What is vitamin D?

The recommended form of vitamin D is vitamin D3 or cholecalciferol. This is the natural form of vitamin D that your body makes from sunlight.

Recent studies have suggested that a substantial percentage of the global population is vitamin D deficient.

Vitamin D plays the following vital functions in your body:

• Maintain the health of bones and teeth.

• Support the health of the immune system, brain, and nervous system.

• Regulate insulin levels and aid diabetes management.

• Support lung function and cardiovascular health.

• Influence the expression of genes involved in cancer development.

• Vitamin D is vital for allowing the body to absorb calcium.

• Vitamin D supports serum calcium levels in your body. In other words, vitamin D is important for ensuring sufficient calcium in the blood and tissues.

• Vitamin D is crucial for bone growth and remodelling, and inadequate vitamin D results in brittle bones.

• Vitamin D plays an important role in supporting the immune function, which protects the body from harm.

• Vitamin D is important for regulating the genes that control cell growth, replication, and apoptosis or programmed cell death. Vitamin D plays a role in preventing or reducing your risk of developing cancer.

• Cells that have vitamin D receptors are reliant on vitamin D for healthy cellular function.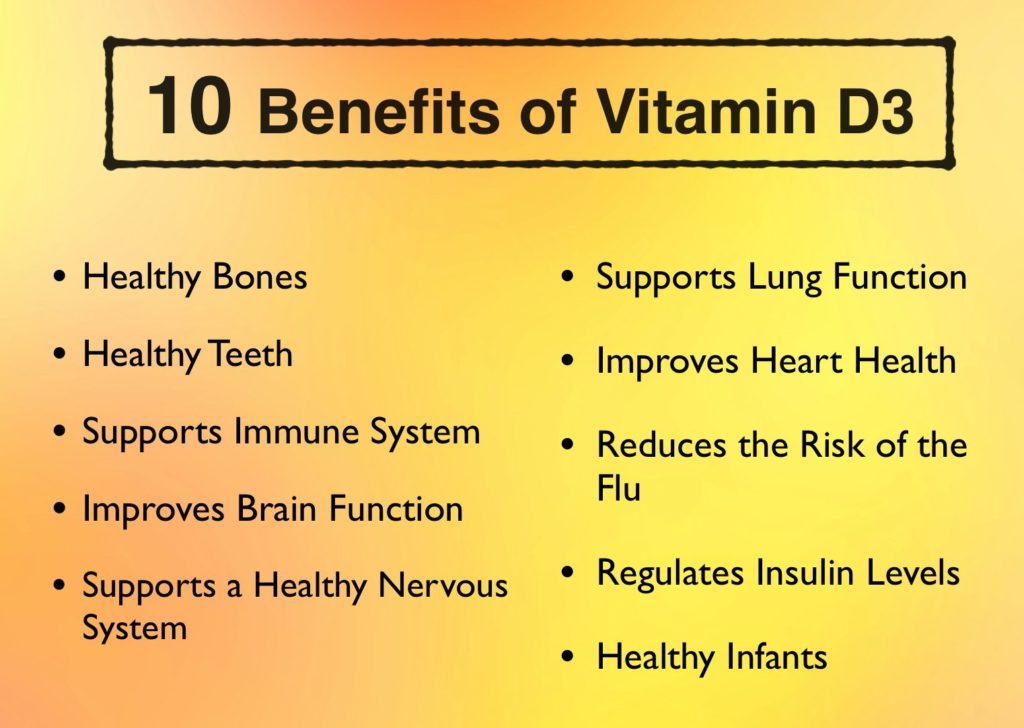 Read more details HERE
Wise Nutrition高钙牛初乳附加维生素K2及D3
*** 良好的钙质吸收有益于健康的成长与发展 ***
Wise Nutrition 高钙初乳不仅含有初乳,而且富含维生素K2和D3。
维生素K2和D3是维持骨骼和心血管健康以及免疫和神经功能的基本成分的完美组合。
维生素K2的摄入量越高,患心脏病的风险就越低。
此外,维生素K2在骨代谢中也扮演着重要的角色,研究表明它可以帮助预防骨质疏松和骨折。
什么是"初乳"
初乳是比一般奶水更高营养的奶水,由雌性哺乳动物的乳腺分泌,在产后72小时内为幼仔提供营养。
初乳含有许多营养成分,包括蛋白质、维生素、矿物质、酶和免疫球蛋白(也称为抗体),这些抗体是由母亲的免疫细胞产生,并传递给初乳中的新生儿,当婴儿自身的免疫系统处于不成熟状态时,初乳提供了抵御细菌和病毒感染的关键保护。
牛初乳是母牛产犊后3天内的乳汁,其蛋白质含量较高,而脂肪和糖含量较低称之为牛初乳。被誉为"21世纪的保健食品"。
20世纪50年代,研究发现牛初乳中不仅含有丰富的营养物质,而且含有大量的免疫因子和生长因子,如免疫球蛋白、乳铁蛋白、溶菌酶、类胰岛素生长因子、表皮生长因子等,经科学实验证明具有免疫调节、改善胃肠道、促进生长发育、改善衰老症状、抑制多种病菌等生理活性功能。