Description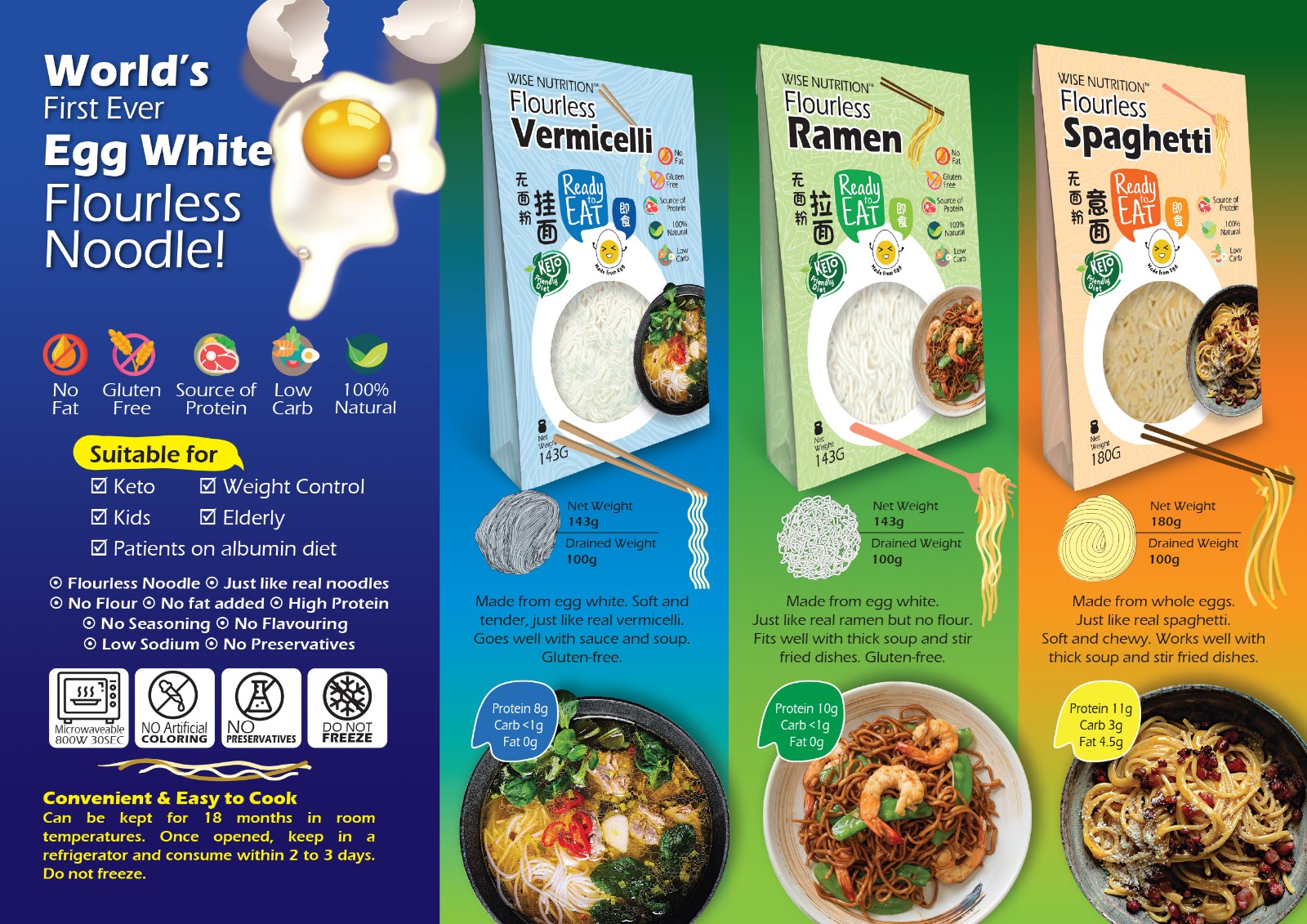 🌾 Discover Gluten Free | Low Carb | Keto Vermicelli, Ramen & Spaghetti – Where Health Meets Happiness! 🍜
Elevate your culinary experience with Wise Nutrition Flourless Vermicelli, Ramen & Spaghetti, a celebration of natural goodness and nutritional excellence. Here's what makes them a must-try:
✅ Pure and Natural: Flourless Noodles are free from flour and preservatives, making them a clean and natural choice. Crafted with whole fresh eggs and no artificial additives, they embody the essence of pure dining.
💪 Nutrient-Rich Marvel: These noodles are a nutritional powerhouse, boasting a generous 11g of protein per 100g serving. Not only do they fuel your body, but they also gratify your taste buds with every bite.
🥦 Low in Carbs and Fat: With just 3g of carbs and a mere 4.5g of fat, Flourless Noodles are perfect for those conscious of their carb and fat intake. They effortlessly align with various dietary preferences.
🍳 Versatile and Convenient: Preparing a delectable meal is a breeze. Flourless Noodles are ready to eat and can be boiled or stir-fried to perfection, offering a range of culinary possibilities.
🏆 Award-Winning Excellence: Recognized for their innovation and excellence, Flourless Noodles have earned prestigious awards, including the National Innovation Award 2021 (1st Runner Up) and the Best of The Best Award from Genius Academy and Agro Beyond Academy, Ministry of Industry 2021 (Winner).
👨‍👩‍👧‍👦 For Every Lifestyle: Flourless Noodles cater to all ages and dietary needs, from children (above 1 year old) to the elderly, and even patients. They're an excellent choice for those on a weight loss journey or following a keto lifestyle.
🏡 Extended Shelf Life: Worried about storage? Relax! These noodles boast an impressive shelf life of up to one year at room temperature, ensuring they're always available to enhance your meals.
🌟 Embrace Healthy Dining: Elevate your culinary creations, support your dietary goals, and savour the excellence that has earned Flourless Noodles their well-deserved acclaim.
🍲 Storage Tip: Once opened, refrigerate and enjoy within two days to preserve their freshness and flavour. Avoid freezing, as it may alter the texture and taste of the noodles.
In conclusion, Wise Nutrition Flourless Spaghetti redefine the art of healthy dining without sacrificing taste or quality. They're your ticket to a world of culinary joy and well-being. Start your Flourless Noodles journey today! 🍜🌟
#HealthyEating #ProteinPowerhouse #AwardWinningFlavors #Keto  #WeightControl
🌾 发现无面粉挂面、拉面和意面 – 健康与幸福的交汇! 🍜
用无面粉面条提升您的烹饪体验,庆祝自然的纯洁和营养的卓越。以下是它们成为必尝之物的原因:
✅ 纯净与自然: 无面粉面条不含面粉和防腐剂,是一种纯净而自然的选择。由新鲜整鸡蛋制成,不含人工添加剂,它们体现了纯粹用餐的本质。
💪 富含营养: 这些面条是营养的强大力量,每100克提供丰富的11克蛋白质。它们不仅为您的身体提供能量,还在每一口满足您的味蕾。
🥦 低碳水化合物和低脂肪: 仅含3克碳水化合物和仅有4.5克脂肪,无面粉意面非常适合那些注重碳水化合物和脂肪摄入的人。它们毫不费力地适应各种饮食偏好。
🍳 多用途和便捷: 准备美味佳肴从未如此简单。无面粉面条已经准备好食用,可以煮沸或翻炒至完美,提供了各种烹饪可能性。
🏆 屡获殊荣的卓越: 无面粉面条因其创新和卓越而备受认可,包括2021年国家创新奖(第一名)以及工业部天才学院和农业发展学院(获奖者)颁发的最佳奖。
👨‍👩‍👧‍👦 适用于各种生活方式: 无面粉面条适合各个年龄段和膳食需求,从儿童(1岁以上)到老年人,甚至患者。它们是那些在减肥旅程中或遵循生酮生活方式的理想选择。
🏡 延长的货架寿命: 担心储存吗?放心吧!这些面条在室温下具有长达一年的出色货架寿命,确保它们始终可用于提升您的膳食。
🌟 拥抱健康饮食: 提升您的烹饪创作,支持您的膳食目标,并品味那些为无面粉面条赢得声誉的卓越滋味。
🍲 储存提示: 一旦打开,请将无面粉面条存放在冰箱中,在两天内享用以保持其新鲜度和风味。请避免冷冻,因为可能会改变面条的质地和口味。
总之,无面粉面条重新定义了健康餐饮的艺术,而不会妥协口味或质量。它们是您探索烹饪乐趣和享受幸福的通行证。今天就开始您的无面粉面条之旅吧! 🍜🌟
#健康饮食 #高蛋白质 #屡获殊荣 #Keto
了解更多详情,请浏览  https://www.WiseNutritionShop.com